part 1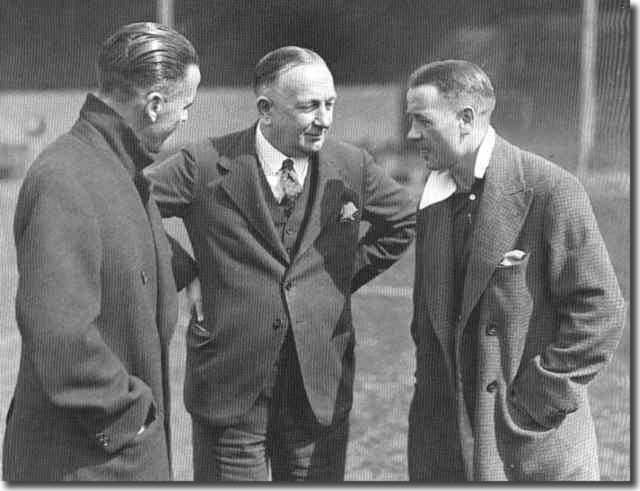 Herbert Chapman had finally agreed to Charlie Buchan's request to discuss a new tactical approach to the game. The meeting took place immediately following Arsenal's 7-0 hiding by Newcastle at St James's Park in October 1925, in their Newcastle hotel; and Chapman, after a long discussion, agreed to experiment. Arsenal beat West Ham 4-0 at Upton Park two days later - and they were on their way to mighty deeds. It was Buchan's idea but it was Chapman who refined the system and made it work.
Arsenal's first major success was the FA Cup of 1930 and, in the final at Wembley, they beat Huddersfield 2-0 - Chapman's new creation getting the better of his old. Huddersfield were ageing while Arsenal were rising fast, and the following year they won the championship for the first time.
Buchan had retired by now, replaced by David Jack, a vital and elegant man who scored his goals with sharp-edged charm and even good manners; and the key role in midfield went to Alex James, an inside-forward of genius, an imp of a man with buttoned-down sleeves and famously baggy shorts. Jack of England moved from Bolton for £10,890, the first five-figure transfer fee, and James of Scotland from Preston for £9,000. The country raised its hands in horror at such extravagance. Chapman smiled at a couple of bargains. Chapman led his new Arsenal into the 1930's with huge and justified confidence.
Arsenal's almost complete dominance of the new decade went far beyond their magnetic accumulation of trophies. A country crippled by recession and shamed by its dole queues saw the club as a symbol of the prosperity and privileges of London.
Herbert Chapman's team was loved by its own but cordially hated by just about everyone else. Arsenal were invincible, grandly untouchable and, always, the team to beat. Their success was even resented in other board-rooms where complacency and convention ruled; but this was just what the game needed. Envy became a stimulant. Arsenal's professionalism was studied and copied. The English game had a Highbury complex - and understandably so.
Arsenal were League Champions five times (1931, 1933-4-5 and 1938), runners-up in 1932 and third in 1937. They won the FA Cup in 1930 and 1936 and were beaten finalists in 1932. The first 38 championships had belonged to the north and midlands but when, at last, the monopoly was broken, Arsenal did the job properly.
There was no television then to flatter and project but Arsenal's players were household names. Alex James and David Jack, of course; Joe Hulme and Cliff 'Boy' Bastin, thunder and lightning on the wings; Herbie Roberts, the shy, red-headed giant who became Arsenal's principal stopper; and impeccable full-backs such as
Tom Parker, George Male and Eddie Hapgood.
Some cost a lot of money, others were conjured out of minor football, but all became essential components of a side which was horribly mean in defence and cruel in counter-attack.
Arsenal's football was sometimes described as 'smash and grab' and often they were called 'Lucky Arsenal', but Chapman was pointing the way to the future. His feeling for things to come was remarkable.
Chapman once visited an old friend in Austria and returned to talk excitedly about a night match he had watched. The pitch had been lit by the headlamps of 40 cars. "Do you realise," he asked, "that if the same number of lights were up on 40-foot poles we could play football as if it was daylight?" Not long after, the Press were invited to watch an Arsenal practice match at night illuminated by dangling lanterns. Chapman got the publicity he wanted for an idea he was convinced would work. He later watched floodlit matches in Belgium and Holland - "cricket with a white ball would have been possible," he said. But authority was unimpressed, and it was nearly 20 years before the first official floodlit match was played in England.
Chapman was also one of the first men to insist on first-class facilities for spectators. He tried out numbered shirts five years before there was approval from the Football League (in 1939); he advocated white balls and all-weather pitches; he experimented with independent time-keeping and goal judges; and, the biggest tribute of all to his gift for persuasion, he had the name of the local underground station changed from Gillespie Road to Arsenal. Nothing about Chapman was grey or vague. He demanded power, loyalty, absolute obedience, punctuality at all times and devotion to the club and profession. In return he was scrupulously fair and true to his word.
Chapman died, suddenly, in January 1934. Despite a chill, and against advice, he insisted on watching his third team play in a cutting wind at Guildford. "I haven't seen the boys for a week or so," he said. Pneumonia set in and three days later he was gone. Arsenal still won the championship that season; and the season after. There is a knowing smile on the face of the bust of Chapman which now stands in the main entrance hall at Highbury.
Herbert Chapman surrounded himself with intelligent footballers, such as James, Jack, and Buchan. Charles Buchan believed that the secret of Chapman's greatness was that he "would always listen to other people and take advantage of their ideas if he thought they would improve the team in any way." Chapman institutionalised his belief in shared discussion by setting up scheduled meetings for the Arsenal players at midday every Friday, when the team would discuss both the previous and the upcoming match. Chapman even had a magnetic model football pitch on a table so that he could show players exactly what he wanted them to do.
Chapman's penchant for tactical planning and ability to transfer his designs onto the pitch led to his teams earning the label `machine'. This was heard first in 1910, at Northampton and it was often repeated through the Arsenal years,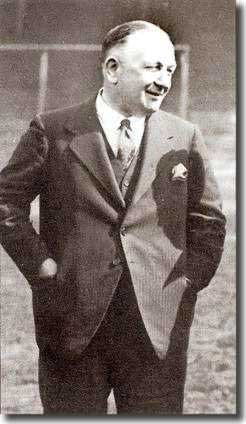 where as Harding describes it "though the faces changed, the machine rolled on smoothly, sometimes more efficiently."
In the final analysis, it was Herbert Chapman's boundless desire for progress that hallmarked his contribution to the development of English football. He would seemingly utilise any method, regardless of its origin, to effect the betterment of his teams. He experimented, but he did not do so blindly, for he possessed the vision and adaptability to incorporate innovations into his grand designs. History has employed many a superlative in the attempt to explain the central role of Herbert Chapman in the changes to the English game, and doubtless his significance will continue to provoke discussion. Unhappily, however, his influence is perhaps best illustrated by the events which followed his death. Nobody really took up Chapman's mantle - and English football stagnated as a result. Whilst the nation complained that the stopper had a negative impact upon the game, the Hungarians re-invented the role to momentous effect.
It is not inconceivable that Chapman would have been moving in a similar direction had he lived on. Firstly, he had always sought to keep abreast of tactical innovation, and there is no reason to assume he would have ceased doing so. Secondly, he kept a close eye on developments in the European game, and was a close friend of Hugo Meisl, Chairman of the Austrian FA.
Throughout his managerial career, Chapman had always borrowed ideas if he considered them worthy and Europe was no exception. His conviction that "there is a great future for football by artificial light in England" was cemented after seeing floodlit matches in Belgium and Holland in 1930. Chapman had always backed his belief in the importance of learning from the continentals with actions. As early as 1909, he took his Northampton team to Germany to play Nuremburg FC and in April 1921 his Huddersfield side overcame the French Champions, Red Star, 2-0 in Paris. Chapman carried these excursions right through to his Arsenal days, but he believed that they were only a prelude to a Western European Cup involving the Champions of nations such as France, Spain, Germany, Scotland and England. Chapman saw such developments as crucial to the long-term success of English football, and he cared passionately about his nation's game. In fact, in 1933, despite objections from selectors, he acted as unofficial manager to the England team in Italy and Switzerland with considerable success. His tactical pre-match team talks helped effect a 4-0 victory over a strong Swiss team, and a 1-1 draw against Italy, in Rome. A year later the Italians were World Champions and seven Arsenal players were in the England team that proved what England could achieve, defeating the visitors 3-2 in `the Battle of Highbury'. Chapman's teams enjoyed considerable success against continental opposition.
The English game was at a crossroads when Chapman died. Despite its status as one of the most advanced footballing nations, other countries were catching and surpassing it in many areas. Though there were other progressive figures in the game, none of their voices carried half the weight that Chapman's did.
He had recognised the need for drastic change, and saw the way forward in the efficient running of the Italian and Austrian sides. But the English FA's refusal to learn from these examples and stubborn insistence upon choosing the national side with a selection committee, were typical of its unenlightened nature. Nearly a quarter of a century before they were humbled by the Hungarians at Wembley in 1953, Chapman had predicted a downturn in England's fortunes if they continued to ignore the advances being made in the European game. Perhaps it could be said that English football is still paying the price for not acting on his warning.